Child safety seats and RV travel: all you need to know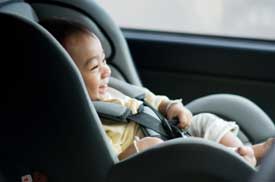 Children measuring less than 2 feet when seated and children under the age of 5 must use a child safety seat while traveling in an RV in the USA. Naturally, the safety seat must be appropriate for the height and weight of the child.
Note that the child safety seat or booster seat must be installed in the back seat. Babies must use a rear-facing safety seat, as in Canada.
The following table provides a summary of child safety seat laws, by state:
| | | | |
| --- | --- | --- | --- |
| STATE | LAW | AGE | WEIGHT |
| Arizona | yes | 5 years | N/A |
| California | yes | 6 years | 60 lb. |
| Colorado | yes | 4 years | 40 lb. |
| District of Columbia | yes | 3 years | N/A |
| Florida | yes | 5 years | N/A |
| Maine | yes | 8 years | 80 lb. |
| Massachussetts | yes | 5 years | 40 lb. |
| Nevada | yes | 6 years | 60 lb. |
| New Hampshire | yes | 6 years | N/A |
| New York | yes | 8 years | N/A |
| Pennsylvania | yes | 8 years | N/A |
| Rhode Island | yes | 7 years | 80 lb. |
| Utah | yes | 5 years | N/A |
| Vermont | yes | 8 years | N/A |
| Wyoming | yes | 9 years | N/A |
---
Similar pages
FAQ