Where can I park my RV in the city?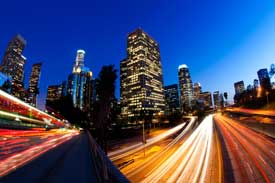 When you take an RV roadtrip across the USA, it can be hard to find a place to park your large vehicle in the big cities.
New York City, Boston, Miami, Los Angeles and San Francisco are good examples.
In general, the easiest way for you to visit a big city is to leave your RV in the parking lot of an shopping mall that is accessible by public transit. Be sure to go back and move your vehicle by the time the stores close (unless you are in a Walmart parking lot, where you are allowed to spend the night).
Apart from this general guideline, here are our parking / camping suggestions for several major American cities:

New-York
You are better off not driving your RV at all in New York City. And anyway, you won't find anywhere to park.
Your best option is to spend the night at one of these two RV Parks just outside the city, both of which offer a shuttle service to downtown Manhattan:
1- Liberty Harbor
Not far from the Statue of Liberty, Liberty Harbour RV Park is the closest RV park to New York City. It also offers a fine view of the Statue of Liberty.
Don't expect to find a 5-star campground. It looks more like a parking lot, but is the most practical way to visit New York while traveling by RV. There is a shuttle service between the campground and downtown Manhattan.
2- Cheesequake State Park
More attractive and closer to nature than Liberty Harbour but farther from the city (a 1-hr drive), Cheesequake State Park is close to train and bus services to downtown Manhattan.
Boston
While there are no official RV parks or RV-friendly parking lots in Boston, you should be able to find a shopping mall accessible by public transit.
However, the best way to visit Boston is to stay at Minuteman Campground. There is a train station near the campground with train service to downtown Boston.
Miami
There is a parking lot in South Beach, on Collins Avenue between 21st and 22nd St. Parking costs around $15 per 24-hour period, and you are allowed to spend the night (without opening any slide outs). This parking lot is conveniently located close to Lincoln Road and its numerous attractions, and is right across the road from the beach. The area is quiet at night.
Los Angeles
Dockweiler Beach RV Park is definitely your best place to stay while visiting Los Angeles. The campground is right across from the beach. As it is next to the airport, the area is quite noisy. The only time there are no flights is between midnight and 4 a.m.
There is a bike trail between the campground and the beach that leads to Venice Beach and Santa Monica.
You can visit Hollywood, Universal Studios and Beverly Hills by RV. However, driving an RV around downtown Los Angeles can be quite challenging.
Further down the coast, at Long Beach, you will find Golden Shore RV Resort.
San Francisco
Candlestick RV Park in San Francisco offers a place to park your RV and an efficient shuttle service ($) to downtown San Francisco. Acceptable but not fancy. The main reason to stay here is for the convenient location and easy access to the city.
You may prefer
San Francisco RV Resort
which has amazing views of the Pacific Ocean and its magnificent sunsets. Transport to the city is less convenient than at Candlestick but the surroundings are far more picturesque.
---
Similar pages
FAQ