When should I take my RV vacation in the USA?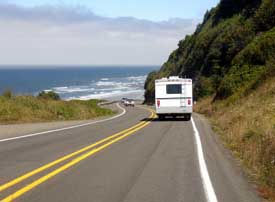 The USA is a vast country with many different regions and climates, making it impossible to provide a general answer to the question of when to travel.
Here are some suggestions to help you choose the best time for your RV vacation, region by region.

Western USA and California
The western states and California are an enjoyable travel destination all year round.
In some western regions of the USA such as Bryce Canyon, Zion and Monument Valley, you may encounter snow between December and March. Many tourists visit the area specifically to enjoy the snowy canyon landscapes. Most campgrounds stay open even in winter.
Peak tourist season in the western USA is from June to September. Be careful in Death Valley: in the summer, temperatures may reach 50 degrees Celsius.
The California coast is cool all year long, even in the middle of July. In fact, there is so much morning fog along the coast from June to August that it can be difficult to appreciate the scenery.
Florida
Florida is known as the "Sunshine State" for a good reason: it is sunny there all year round!
Peak season in Florida is from December to April. There are many tourists and prices are higher.
While Florida is a popular destination all year round, it should be noted that there is a risk of hurricanes between June and September. The risk is not great enough to discourage travelers from visiting, and prices are lower during the summer.
North-Eastern USA
RV travel in the north-eastern USA is only possible between May and October. Outside of this period, campgrounds are closed for the winter.
Peak season is in July and August. There are many tourists on the roads and prices are at their highest.

---
Similar pages
FAQ