Where to spend the night with an RV in the USA?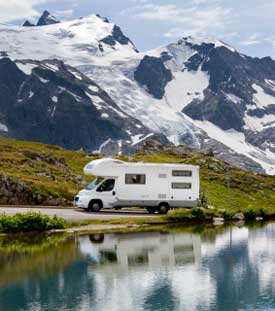 The best way to enjoy your American RV vacation is to stay in campgrounds, particularly those in National Parks and State Parks.
However, if you are travelling on a low budget, here are some possibilities:

Walmart
The Walmart chain allows RVs to use their parking lots for one night, free of charge.
Be sure to ask the store manager's permission before seting up for the night.
Note that you are not allowed to open any extensions/slide-outs in the Walmart parking lot.
You should also note that not every Walmart store allows overnight parking. Refer to this list of "RV Friendly" Walmart stores for more information.
Passport America
Become a Passport America member and save up to 50% at a wide selection of campgrounds across the USA.
Rest Stops
It is important to note that overnight RV parking is prohibited at roadside rest stops in the USA, except in the following states:
Arizona
Arkansas
Connecticut
Illinois (only on Illinois Toll Road)
Indiana (only on Indiana Toll Road)
Kansas
Nevada
New Mexico
New York (emergencies only)
Ohio (only on Ohio Turnpike)
Oklahoma
Oregon (14-hour limit)
Texas
Virginia

In all other states, violators risk receiving a fine if caught.

---
Similar pages
FAQ